Maison Mer Soleil
Welcome to Maison Mer Soleil (Sea Sun House), located on the island of House Harbour, in the South Dune area that provides from both sides a peaceful environment and a magnificent vista of the sea, the hills and the famous South Dune beach. Wide ocean view, hilly meadows ending on red bluffs plunging into the sea, fox tracks in the hay, wild berries, nothing missing for plain intense life moments. Quiet, bright, confortable and very clean, each rental is on 2 storeys and has its independent patio with ocean views.
CITQ license : 299348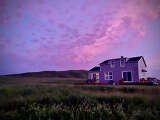 Sunny Sideavailable from May 18th, 2024
rates/vacancies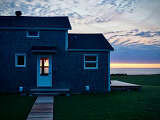 Sea Sideavailable from Nov 25th
rates/vacancies
Address :

258, chemin de la Dune-du-Sud
Havre-aux-Maisons
Philipe et Marie-France
: send an email
Facilities :

- Sun Side
- 2 bedrooms on 2nd floor
- 1 queen size bed, 1 double bed
- 1 full bathroom with shower.
- washer and dryer on 1st floor
- large kitchen counter, microwaves oven
- vitro-ceramic cooking plate, 2 mini-fridges
- Sea Side
- 2 bedrooms on 2nd floor: one with queen bed, double bed and simple bed in the other
- 1 bathroom with bathtub on 1st floor
- 1 water closet (toilet + bassin) upstairs
- decked washer-dryer
- large central untit with cooking plate
- built-in convection oven, microwaves oven
- dish-washer
- cathedral ceiling
- Included on each side
- beddings and towels supplied
- fully equipped kitchen
- Smart tv with cable
- Bluetooth speakers
- Internet wifi access
- slidding door opposite to sea
- independant patio with table and chairs
- clothes string and barbecue access
- no-smoking accommodations
- pets not accepted
Nearby :

- beach of the South Dune (1km)
- scenic vista at chemin des Montants (1.5km)
- islands airport (2.4km)
- lighthouse of Pointe-Basse (3.2km)
- vista from top of Round Hill (3.5km)
- COOP supermarket of House Harbour (3.7km)
- Trésor du Large oysters and Fumoir d'Antan smokehouse at Pointe-Basse harbour (4km)
- cheese maker Pied-de-Vent (4.5km)
- the Old Convent restaurant (5km)
- beach of the North Dune (10km)
- grindstone harbour, ferries (10km)