Les Cottages du Sable
Down the road to Sandy-Hook, just before the dunes, you will find cozy cottages ideally located along the bay of Havre-Aubert, a five minute drive from the historic site of La Grave, eight minutes walk from the beach Sandy-Hook, one of the most beautiful beache of the Islands. The location is unique; you will find the tranquility of the dune close to services and the animation of the Grave. It's a new building and the interior layout of the cottages was completed in June 2007. Welcome at "Cottages du Sable" !
CITQ license : 221530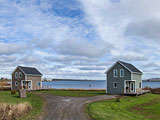 Cottage #243available from Sep 23rd
rates/vacancies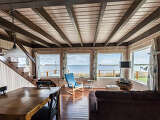 Cottage #239available from Nov 1st
rates/vacancies
Address :

239, chemin du Sable
Havre-Aubert G4T 9G9
Charles Amyot
: see phone number
: send an email
Facilities :

- same for each home
- 2 bedrooms upstairs
- 1 queen bed 60" and 1 double bed 54"
- 1 bathroom upstairs
- bedding and towels provided
- kitchen and dining room equipped
- microwave
- washer and dryer
- TV subscription
- wireless Internet access
- bay window facing the harbor
- patio with water views
- pets not allowed
- non-smoking house
Nearby :

- Sandyhook beach (700m)
- Butte des Demoiselles (2km)
- clamming on the reef flat (2km)
- the tip of the " end of the bench " (4km)
- the historical site of La Grave (2.5km)
- cafes, restaurants, boutiques, art galleries, museum , aquarium, marina
- kite surfing site Havre-aux-Basques (10km)
- Ferries Cap-aux-Meules (27km)