Havre sur Mer
House 8 bedrooms and/or studio (2pers) An old inn in the Magdalen Islands, the last frontier to infinity. Come and discover Le Havre sur Mer surrounded by its red sand cliffs, kilometers of beaches, the lighthouse of Anse-à-la-Cabane and the port of Bassin. It is the perfect place to reunite the family at large, to spend time with your friends, or to bring together and strengthen your work team.
CITQ license : 079645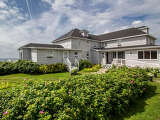 The Innavailable from May 26th, 2024
rates/vacancies
The Studioavailable from May 26th, 2024
rates/vacancies
Address :

1197 chemin du Bassin
Bassin G4T 0E7
Alexandre
: see phone number
SMS :
send an SMS
: send an email
Facilities :

- 8 bedrooms
- 1 king size bed 72"
- 6 queen size beds 60"
- 1 single bed 39"
- 3 camp beds
- 8 private bathrooms
- 1 water closet
- 8 shower cabins
- 9 toilets
- bedding and towels supplied
- washer and dryer
- clothesline
- fully equipped kitchen
- dish-washer
- microwaves oven
- espresso machine
- flat screen TV
- board games
- WIFI Internet access
- barbecue
- picnic table
- *pets not accepted
- *no-smoking accommodation
Nearby :

- beach right ahead from the backyard (50m)
- fishers wharf of Millerand (800m)
- lighthouse of l'Anse-à-la-Cabane (850m)
- grocery and liquors Jalco's (2.3km)
- goat cheese «Les biquettes à l'air» (2.3km)
- beach of Bassin (4.3km)
- art gallery «La baraque» (4.7km)
- big forest and the Solitary Lake (5km)
- the West Dune beach (6km)
- apple orchard and cider Pomeloi (6.5km)
- beach of Portage-du-Cap (8.4km)
- historic site of la Grave (12km)
- kite surfing at Havre-aux-Basques (12km)
- Grindstone ferry terminal (28km)